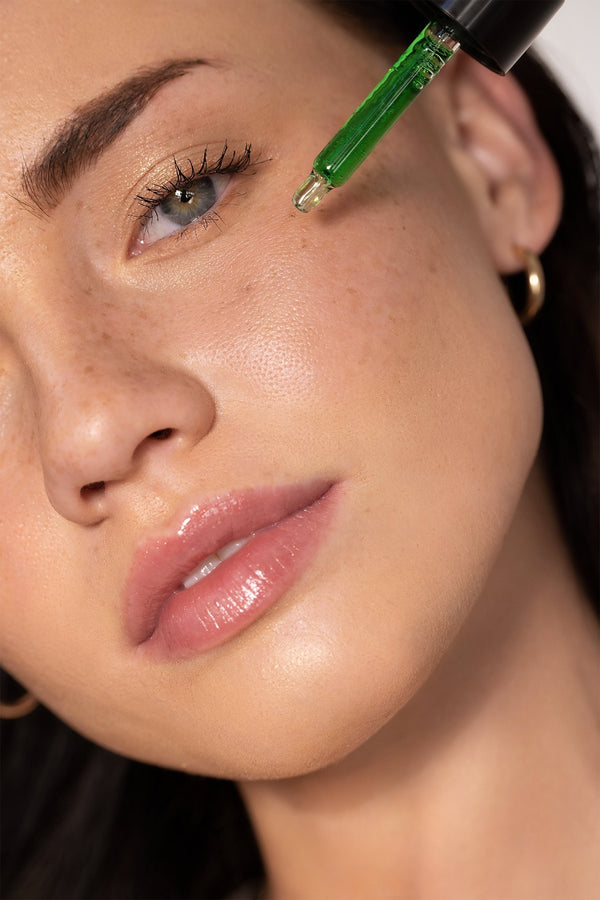 Which Serum Is Best For Me
July 19, 2022
Serums are potent, targeted skincare products that are an essential part of your routine. Whether you want to focus on anti-aging, fighting acne, evening skin tone, or just overall skin health, chances are, there is a serum out there that will improve your skin. We have three top-selling serums, so let's break them down to determine which one may be best for your need
OUR 3 TOP-SELLING SERUMS
CHLOROPHYLL CORRECTION SERUM: The ultimate serum for calming, soothing and addressing redness. Chlorophyll is the main active ingredient that immediately reduces red pigment in the skin, and it even helps to purify the skin. As you may know, Chlorophyll is green in color. When you look at the color wheel, green is opposite to red, which means that green serums effectively neutralize redness in the skin.
Additional benefits of this serum:
Soothes, calms and provides immediate relief 

Helps reduce long-term redness over extended use

Skin feels hydrated and plumped, appearing more youthful

Leaves skin brighter and more radiant looking

Helps protect skin from damaging free radicals 
As you see, this serum also helps improve the overall appearance of the skin thanks to ingredients such as green tea polyphenols, willow bark extract, and hyaluronic acid.
LIQUID FILLER SERUM: Called "botox in a bottle," this is a game changer when it comes to attacking signs of aging. Thanks to ingredients like Hyaluronic Acid and Niacinamide, this powerful formula will bring big results in just two weeks of use. Think of Hyaluronic Acid as a big drink of water for your skin, as it visibly blurs lines, softens wrinkles, and plumps the skin for a youthful appearance.
Additional benefits of this serum:
A toxin-free alternative to botox or filler

Reactivates collagen levels in the skin

Glycosaminoglycans improve skin barrier function

Reduces signs of rosacea

Visible results in two weeks
Liquid Filler Serum contains bamboo and pea extract, provitamin B5, and glycerin as well, which have anti-aging properties.  
BRIGHTENING C SERUM: Antioxidant protection is the number one focus for the brightening C serum, as it contains L Ascorbic Acid (15%) and Ferulic Acid (0.5%). Antioxidants are essential for protecting the skin from UV damage, and brightens the skin to improve sun damage, melasma, and hyperpigmentation. L Ascorbic Acid is the technical term for vitamin C, hence the "C" in brightening C serum.
*Brightening C Serum is temporarily unavailable - New & improved formula coming soon!
Additional benefits of this serum:
Fights free radicals

Intensified results due to a trans-epidermal carrier that improves serum delivery

Reduces the appearance of fine lines and wrinkles

Increases collagen production

Reduces sunburned cells by 96%
Peptides, Hyaluronic Acid, and Vitamin E help boost results of this brightening serum, providing additional perks for your skin.
WHEN TO COMBINE SERUMS
Serums are tempting because they are targeted, potent, and bring big change. In many cases, it is alright to use more than one serum to address multiple concerns at once. So how do we suggest pairing serums? Typically, the rule of thumb is to only use one serum each time you apply skincare products. So, if you want to use two or even three serums, make sure that you only use one in the morning, and one in the evening.
Typically, we suggest using the Brightening C Serum in the morning to provide all-day antioxidant protection, and then using the Chlorophyll Correction Serum or Liquid Filler Serum at night. However, you truly cannot go wrong with these serums as long as you use the Brightening C Serum in the morning as it is not nearly as effective at night.
Whenever using multiple serums, it is best to start slowly to assess how your skin responds to using multiple serums in your routine. In most cases, you'll be able to handle more than one serum as long as you use them properly! 
WHEN TO AVOID SERUMS
There are times and places to avoid using serums. Below are a few scenarios where you need to avoid serums or be cautious:
If you are allergic to any ingredients in a serum, refrain from using it as you could have a reaction

If your skin barrier is sensitized or sensitive, avoid serums until your skin can tolerate basic products such as our cleanser, toner and moisturizer

If you have burned your skin or just received a skin treatment, avoid serums that address aging or sun damage as they are active and can irritate the skin (

however, the chlorophyll correction serum is amazing for post-procedure or after a sunburn

)

If you are using any topical medications from a doctor or dermatologist, consult with them prior to using a serum as it may be better to avoid one while using certain medications 
Adding in a serum to your skincare routine is such an effective way to boost results. We know you will make the best decision based on your situation, but if you ever have any questions about what products are right for you, be sure to take our simple, easy
skin quiz
!