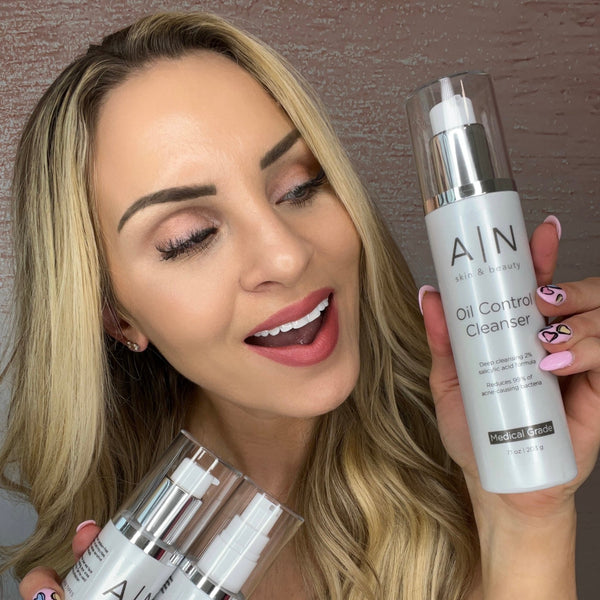 Salicylic Acid: The Skincare Ingredient You Need for Oily & Acne-Prone Skin!
February 23, 2022
Do you struggle with excessive oil and shine? Is unwanted oil the culprit for your pesky acne breakouts? Do you or your partner have body acne? Then look no further. We have designed a product made JUST for you that can be used on the face and body! Mark your calendars and get ready for our brand new Oil Control Cleanser launching on April 15th! We want you to be the first to read all about our NEW product!
The first step to achieving clear skin is keeping your skin cleansed with the most suitable cleanser for your skin type. The oil control cleanser is designed for those who want to reduce excess oil and acne breakouts while deeply cleansing pores and nourishing the skin without stripping your natural moisture. Not to mention, the soft aroma of naturally derived citrus fruit in this cleanser will make you eager to wash your face day and night! Not only does it have a refreshing scent and lush feel for a spa-like experience, this cleanser is going to do WORK on your skin concerns thanks to our medical grade formula.
If you have oily skin or acne-prone skin, Salicylic Acid is going to be your best friend! 2% Salicylic Acid is the main active ingredient in the Oil Control Cleanser. This high performing ingredient works to decrease excessive sebum and oil production by penetrating deep into the pore to thoroughly cleanse and gently exfoliate helping to reduce acne breakouts. In clinical studies, our Oil Control Cleanser reduced 99% of acne-causing bacteria.

"I use the Oil Control Cleanser on my body since I get pesky breakouts from sweating at the gym! I've noticed far less breakouts and if I do have some return, this cleanser clears it away within a day or so!" -Becky
When treating excess oil and acne breakouts with topicals, it's important to use ingredients that are gentle on your skin but effective enough to induce positive change. That is why we have included Niacinamide in the Oil Control Cleanser as well! This ingredient works to reduce redness & irritation to improve your overall skin complexion. Both Salicylic Acid and Niacinamide work effortlessly together leaving the skin feeling nourished, soft, and more radiant than before! Read below for more oil crushing benefits our newest cleanser can do for you!
Oil Control Cleanser Benefits:
Clinically proven to reduce 99% of acne-causing bacteria.
2% Salicylic Acid penetrates deep into your pores, decreasing excessive sebum and oil production helping to fight against acne-causing bacteria.

Provides gentle exfoliation of dead skin cells from deep within the pores and follicles.

Helps keep your pores free of cellular debris to prevent acne breakouts.

Supports a healthy glow while leaving your skin complexion looking more radiant, soft, and smooth!

Decongests, tones, and tightens leaving your skin feeling rejuvenated without drying it out.
"I love the new Oil Control Cleanser! I swear it cleared my acne so fast. It has a nice scent & I really feel the difference when I use it. My skin is softer and smoother and it deeply cleans my oily skin like a champ! 10/10 recommend!" -Naomi
Are you a fan favorite of the OG Daily Essential Cleanser and wondering if you should try our new Oil Control Cleanser? Let's break down the differences between these two products and talk about who they would be best suited for! 
The daily essential cleanser is great for cleansing the skin, removing makeup/oil/impurities, while providing a boost of hydration with Hyaluronic Acid. This cleanser is going to be suitable for those with combination and normal skin types. The main difference between these two cleansers is that the Oil Control Cleanser contains Salicylic Acid while the Daily Essential Cleanser does not contain this active ingredient. Salicylic acid is a BHA, which is an acid that gently exfoliates the skin while pulling out oil/impurities deep from within the pores to help control acne breakouts.
We recommend the Oil Control Cleanser for those with oily, acne-prone, and combination skin types. We also recommend the Oil Control Cleanser for men and women struggling with body acne. This cleanser is suitable for the face and body! For those experiencing excessive oil production and acne breakouts, we recommend following up with a few refreshing spritzes of our Clarifying Acne Toner for the face and body as well!
"This new cleanser is truly a life-saver for keeping my body clear of acne and I can enjoy my sweat sessions without worrying about impending breakouts! I love pairing my Oil Control Cleanser with the Clarifying Acne Toner!" -Sydney
Please note: If you have sensitive or dry skin, or you are brand new to using medical grade skincare (medical grade skincare contains ingredients that are more potent and effective than over-the-counter skincare), we suggest using our Gentle Foamy Cleanser and staying clear from the Daily Essential Cleanser and Oil Control Cleanser. Unfortunately, these cleansers may be too powerful for your skin barrier, and we want to ensure that you are using a cleanser that your skin can handle and love! One day, you may be able to graduate into a different cleanser like the Oil Control Cleanser, but we do advise that you start with our most gentle cleanser if your skin type is sensitive, dry or new to medical grade skincare. 
At A|N Skin & Beauty, our goal is to make 500,000 people love their skin, including you! If you have oily or acne-prone skin, look no further, because this cleanser was designed with you in mind. With skin loving ingredients like Salicylic acid to reduce excess oil & gently exfoliate, Niacinamide to hydrate, and Clary Sage Extract to reduce inflammation… Your skin is sure to crave this cleanser on the daily! Now that you have all the scoop on our newest cleanser, we can't wait for you to be as obsessed with it as we are! Experience our Oil Control Cleanser for yourself and grab it on Friday April, 15th at 12:00 CST.