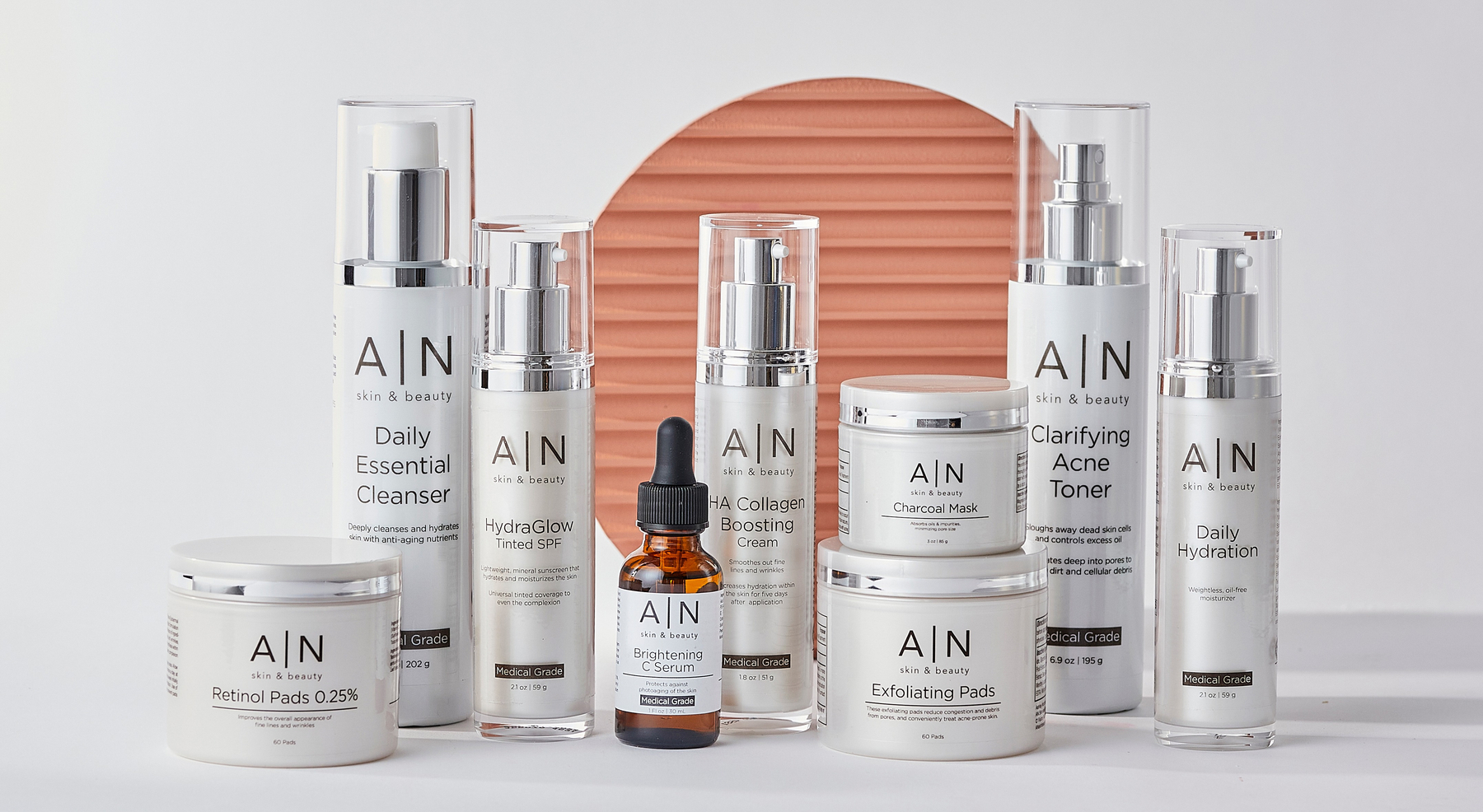 Combination Skin + Acne Focus + Pregnant
Explore your skincare regimen below
You Have Combination Skin
Combination skin is actually the most common skin type out there, and even our founder, Ashley Nordman, has this skin type herself! Combination skin means that the skin is a combination of both oily and normal/dry. What you'll notice is that you get oily in your T-zone (the chin, nose, sides of the nose, and between the eyebrows), but that you might get dry from time to time around places like your mouth. Combination skin can be a bit annoying at times. This is because, if you don't have the proper balance of oil and moisture, you'll notice that you can look greasy by 2pm or that your skin feels tight and dry if you are over-exfoliating.
When you look at your skin, you'll notice that your pores are visible in your T-zone, which makes sense as this is where you tend to have more oil. You may develop blackheads on your nose or chin easily, but not so much on your outer cheek area or forehead. The pores on your cheeks and forehead will appear more normal in size, as they don't create as much oil.
Most people with combination skin will think that they have oily skin, but in reality, they just need to focus on balancing that oil and moisture, to calm down the oil production in that pesky T-zone! Combination skin tends to tolerate products well, but it can also be a bit acne-prone, as things like hormones and stress can really boost oil production on areas such as the jawline, cheeks, and eyebrows.
For people with combination skin who want to focus on acne, we recommend our top-selling acne bundle. These products are designed to combat acne and those stubborn breakouts, keeping your complexion clear and smooth. The focus of this bundle is to control oil production while reducing both congestion and inflammation. Because retinol pads are not recommended for people who are pregnant or breastfeeding, we have removed them from this bundle. When you are no longer pregnant or breastfeeding, you can incorporate them into your routine!
Your Starter Trio
Your Full Regimen
Your Daily Routine
MORNING
1. Daily Essential Cleanser
2. Clarifying Acne Toner
3. HA Collagen Boosting Cream
4. HydraGlow Tinted SPF
NIGHT
1. Daily Essential Cleanser
2. Clarifying Acne Toner
3. Exfoliating Pads
4. HA Collagen Boosting Cream
5. Daily Hydration Moisturizer
WEEKLY
Use our Charcoal Mask 1-2 times per week to remove impurities. Cleanse your face first before applying the Charcoal Mask. Use the Charcoal Mask up to 15 minutes. Following the Charcoal Mask, run through your normal nightly routine, starting with your cleanser.
FAQ's
Still not sure about your new skincare regimen?
Let us help you! Email us at help@anskinbeauty.com and we will help you find a skincare regimen you feel confident with!