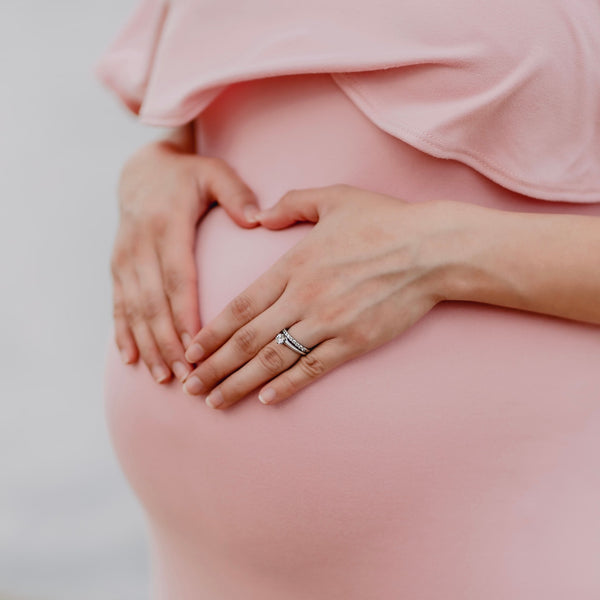 The Pregnancy-Safe Skin Brightening System
September 26, 2022
Pregnancy causes all kinds of changes in the body, which can absolutely impact the skin. Many women complain during pregnancy about having "dull" skin, developing melasma and hyperpigmentation, and even having inflamed skin. This is due to ramped up hormones, an increase in blood volume, and circulation changes. While pregnant, it can be really tough to suddenly notice changes in your skin like this, especially when you have no idea what is safe for your body or baby, as some ingredients must be avoided.
Let's first focus on what you CAN use during pregnancy and then we can chat quickly about what you need to avoid using on the skin while pregnant. The goal is to feel confident, have radiant skin that is less inflamed, and to have balanced pigmentation all while using products that are safe for mama's-to-be.
The absolute best thing you can and need to use while pregnant are our Brightening Pads in our Advanced Brightening Kit.
Secondly, you must be wearing sunscreen daily, such as our top-selling HydraGlow Tinted SPF or our new Sheer Glow Non-Tinted SPF. Think of this as "insurance" to protect your investment in your skin, as well as an essential step to boost results, protect the skin, and PREVENT damage. Sunscreen is non-negotiable, and we promise you that our top-selling sunscreens are not stinky, oily, or unpleasant to use! Our HydraGlow Tinted SPF is amazing as it goes on like a BB Cream, and then our Sheer Glow Non-Tinted SPF is lovely as a primer under makeup.
Next, we highly recommend our Chlorophyll Correction Serum to balance, calm and soothe. This serum is packed with chlorophyll and other botanical ingredients that instantly balance the skin and attack inflammation and redness, which is a very common complaint amongst pregnant women. This serum is also really great for anti-aging and brightening as it contains Vitamin C, exfoliants that gently slough off dead skin cells, and hyaluronic acid to plump and reduce fine lines.
And if you're going to use all of these things, then we might as well touch on our top-selling cleansers, toners, and moisturizers so you can have an entire A-Z regimen to REALLY see the best results. How about we just break down an entire routine below that you can follow while pregnant for the best results? Okay, deal!
Step 1: Daily Essential Cleanser or Gentle Foamy Cleanser - We recommend beginning with the Daily cleanser unless your skin is sensitive, you are new to medical-grade skincare, or you have dry skin. If any of this pertains to you, start with our Gentle cleanser! 
Step 2: Peptide Balancing Toner or Clarifying Acne Toner - We suggest using our Peptide toner unless you have oily skin, hormonal acne, blackheads, or skin that really needs extra exfoliation. In that case, we would recommend the Acne toner.
Step 3: Advanced Brightening Kit: Brightening Pad - Use this daily to prevent pigmentation from forming and to remove any existing pigment concerns such as melasma, acne scarring, and sun spots. 
Step 4: Chlorophyll Correction Serum - Use this daily to balance the skin and keep the skin barrier healthy. 
Step 5: Daily Hydration Moisturizer or Intensive Nourishing Cream - We recommend starting with our Daily moisturizer unless you have compromised, irritated, dry or inflamed skin.
Step 6 (daytime only): HydraGlow Tinted SPF or Sheer Glow Non-Tinted SPF - Apply this daily to protect your skin and boost results! 
As always, if you have any questions about your skincare routine, contact our amazing skin experts at help@anskinbeauty.com or on instagram at @ANskinandbeauty.
Here is a quick breakdown of some of the ingredients you need to avoid during pregnancy that are typically used to lighten the skin and enhance the complexion:
Retinol of all strengths 

Salicylic acid in high percentages (above 2% - none of our products contain higher amounts than this)

Hydroquinone
You CAN keep your skin looking its best while pregnant, you just need to ensure that you are using products that keep your skin barrier happy! You also have to focus on adding in products that prevent the skin from developing too much pigment or redness, and this routine will help bring such amazing results!