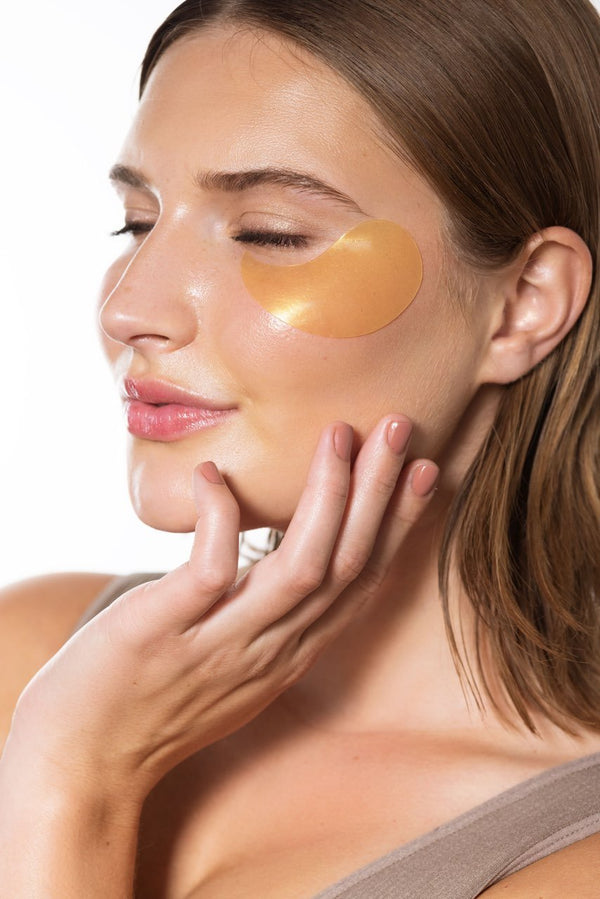 All About Golden Eye Masks
November 15, 2022
If you are in need of an amazing, results-driven product for your under eyes that is both luxurious and fast-acting, then Collagen Eye Masks are the perfect addition for your routine. AN Skin's soothing, and gorgeous Golden Eye Masks are truly the best eye masks you will come across, and there is a reason our customers have an obsession for these.
What are eye masks?
Eye masks are a peel-and-stick patch that you place under your eyes, and they contain targeted, active ingredients that are designed especially for the delicate under eye skin. This area is where the skin is the thinnest on the body, and it is also easily impacted by things such as weather, sleep, inflammation, and aging. 
Under eye masks encourage a more youthful glow to your skin, and can improve things such as crow's feet and fine lines, sagging skin, under eye bags, dark circles, dry under eye skin, and dull skin as well. Immediate and long-term results can be expected, especially with consistent use. Puffiness will be highly reduced, discoloration and dark circles will disappear, and your under eyes will be lively and bright.
What is so special about our formula?
Golden Eye Masks are firming eye patches that provide a non-invasive, relaxing treatment. Ingredients such as algae and hydrolyzed collagen create a superior penetration and delivery system for the rich ingredients found within each mask. Nano gold activates the basal cells in the epidermis (our top layer of skin that is visible to the naked eye), increasing elasticity to firm and plump the skin.
Enriched with living plant stem cells to promote collagen synthesis, these masks also help preserve, repair, and protect vital skin cells. Formulated with a pure hyaluronic acid that attracts up to 1,000 times its weight in water, these patches also help sustain deep, long-lasting hydration, which quickly resolves dull, lifeless looking under eye skin.
Ingredient Highlights: 
Epidermal Growth Factor (EGF): this growth factor stimulates collagen and elastin deep into the dermal tissue in the skin
Algae: hydrating, revitalizing, and great for anti-aging as it improves elasticity
Nano Gold: nourishes and energizes the skin, attracting more oxygen into the skin for maximum ingredient penetration
Hydrolyzed Collagen: moisturizing antioxidant that boost hydration and collagen production
Plant DNA Stem Cells: powerful antioxidant that improves skin cell turnover and boosts collagen
Hyaluronic Acid: boosts hydration and attracts moisture to the skin, plumping the skin effectively 
Allantoin: soothing ingredient that calms the skin and heals the barrier
Vitamin E: powerful antioxidant that protects and heals the skin while improving moisture
What are the benefits of eye masks? 
There are a variety of benefits for using eye masks, but the main reason people seek out these amazing eye patches is because they want to focus on anti-aging. And you might be surprised, but the number one complaint we hear at AN Skin when it comes to issues that men face with their skin is their crow's feet and under eye region! So, tell the men in your life about these magical masks - men tend to be more complacent with something that you "set and forget."
As we age, the thin skin under our eyes tends to be impacted first, showing things like fine lines, wrinkles, crow's feet, and puffiness. This is due to the reduction of collagen in the skin, which is why these collagen-boosting masks bring such great results.
How to use eye masks
Incorporating our Golden Eye Masks into your routine is simple and easy! You can use them morning or night, or any time you want to focus on self-care, like when you take a bath or rest on the couch watching Netflix. 
How to use:
Before applying under eye masks, ensure that your skin is clean and clear of debris, dirt and makeup. Use a cleanser of choice to clean the skin.

After cleansing and drying the skin, grab your Golden Eye Masks and open up the jar. You'll notice there is a spatula inside that you can use to easily grab the eye masks out of the jar. With the spatula, grab one eye mask at a time and remove from the jar.

Apply one mask under each eye, and gently lay the mask on the skin, with the pointed side on the inside of your eye, and the rounded side on the outside where your crow's feet are.

Relax and enjoy the benefits of the soothing, calming and cooling ingredients as they penetrate deep into the under eye area. Leave them on for 10-45 minutes, and remove by gently peeling them off the face and discarding them.

The masks are not sticky like a sticker, and will not hurt or feel like a bandaid when taken off. They are made of a gel consistency.  

Upon removing, gently pat the remaining serum into the skin and then finish with eye cream if you desire. There is no need to rinse or remove the serum left over from the masks. 
Tip: if you want even more of a boost from your masks, pop them in the fridge prior to use to ramp up the cooling effect! This is a great practice for reducing puffiness even further. 
When is the best time to use eye masks?
Under eye masks are versatile and can be used any time that is convenient for you! While many people love ending their day with a relaxing self-care session, others love beginning their day with these revitalizing masks to awaken the under eye area! You could use these mid-day, during your lunch break, while driving, or even while you take a bath.
Did you order them yet?
Eye masks are a great addition to your routine, no matter what your goal is. They are great for all skin types, for all ages, and for women and men. You'll be sure to love AN's top-selling Golden Eye Masks, as they are a non-invasive, luxurious treatment mask that brings lasting, powerful results.